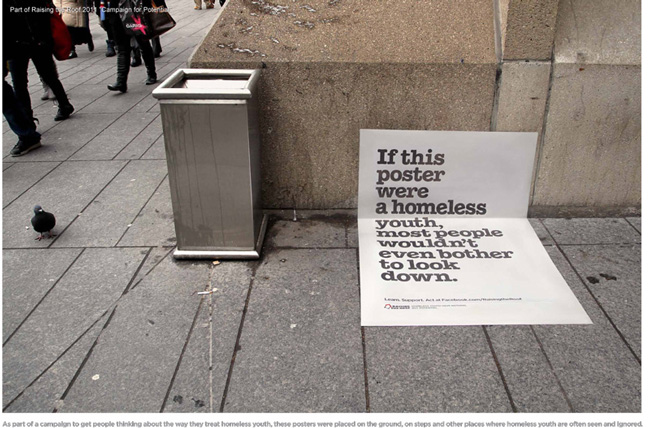 Just six more days until the bell rings for thousands of students across Greater Victoria – it's time to head back to school. Students and parents are busy getting those last minute items; backpacks, binders, the perfect back to school outfit, juice boxes, snacks, the list goes on and on. But this isn't the case for all youth. As youth who are homeless get ready for this school year, they have to consider where they will live and what they will eat, in addition to which classes they'll take.
It is difficult to grow and change from child to adult. Adding the serious physical and emotional threats that go along with homelessness creates overwhelming challenges at an already challenging time. An estimated 65,000 youth experiencing homelessness face these challenges across Canada. A 2008 study asked youth service providers to estimate the number of youth and young adults at risk of homelessness in Greater Victoria. They came up with a conservative estimate of 616. Now, these service providers agree this number has increased since 2008.
Despite the increase we often don't notice these youth, even though many sit in the classrooms with our own children. Youth experiencing homelessness are hidden: about 80% of them don't sleep on the streets, but instead sleep in cars, at friends' or strangers' houses or couch surf, moving from place to place as circumstances change.
Homelessness is not a choice. Too often a youth decision to leave home is the healthiest (and only) option available to them. Some flee issues around family conflict, sexual orientation, poverty, abuse and neglect, while others may become entangled in substance abuse and addiction issues.
Once a youth is homeless, it's hard to get out. Due to age restrictions, many youth can't access shelters for the adult homeless population, making it hard for them to connect with services to help end their homelessness. Youth also face barriers when trying to get their own housing. Paying rent and bills is virtually impossible with a part-time minimum wage job; add to that many landlords don't want to rent to youth. So, many youth are forced to remain hidden, or move to the streets.
Without proper housing, food and supports, the health of a youth experiencing homelessness is at risk. Homeless youth have higher rates of HIV and STI's, and of anxiety and depression issues compared to housed youth. It's difficult to grow into a healthy adult when you're unhealthy, poorly nourished and stressed.
While this paints a bleak picture, we can prevent youth homelessness from happening by making sure youth know where to turn when their home isn't safe. With the coming school year upon us, we recognize the hard work and effort of teachers and schools in mentoring and supporting youth in need. Unfortunately, with limited time, funding and resources they can't ensure that no one falls through the cracks.
Organizations for youth in Greater Victoria, like Salvation Army's Beacon of Hope House, the Youth Empowerment Society, Threshold Housing, and Beacon Community Services meet the immediate needs for food, shelter and supports. Still, because the numbers are growing, these supports are not enough. We call for more youth-specific supportive housing, a model that provides housing and support services, like counselling, job training and addiction treatment to get youth into homes, and out of homelessness.
On a federal and provincial level, homeless youth must be recognized as distinct from the greater adult homeless population, and specific policies for youth must work to protect and prevent youth from homelessness.
Every youth should be able to go to school, and to have a place to come home to that is safe and appropriate, after that school day ends.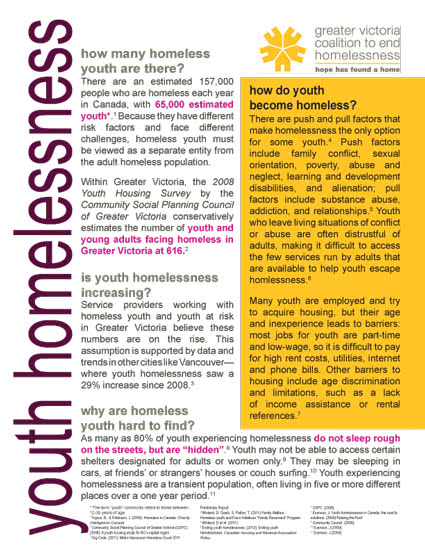 Read our Youth Homelessness Fact Sheet for more information.
[portfolio_slideshow]
Challenges Faced by Greater Victoria Youth
Current policy discourages housing managers housing youth in subsidized housing with marginalized adults.
Some, but not all, youth qualify under specific criteria for some financial support from the government. To qualify, youth must not be able to return to their home or an alternative arrangement, and are expected to be attending school and working.

When a youth qualifies for a Youth Agreement the Ministry of Children and Family Development, they can qualify for up to $900 monthly to pay for:

$500 towards rent
$283 towards support
Bus pass
Hydro bill
Cell phone bill

Without a history with the Ministry of Children and Family Development: can qualify for up to $610 monthly if seeking employment and unable to live with parents or guardians.

The average rent of a Greater Victoria bachelor suite –the most affordable option- is $665 per month
Youth under 18 can't apply for BC Hydro services
Youth under 19 can't apply for internet or phone services with Shaw or Telus
Due to inexperience, youth must often work part-time for minimum wage and no benefits