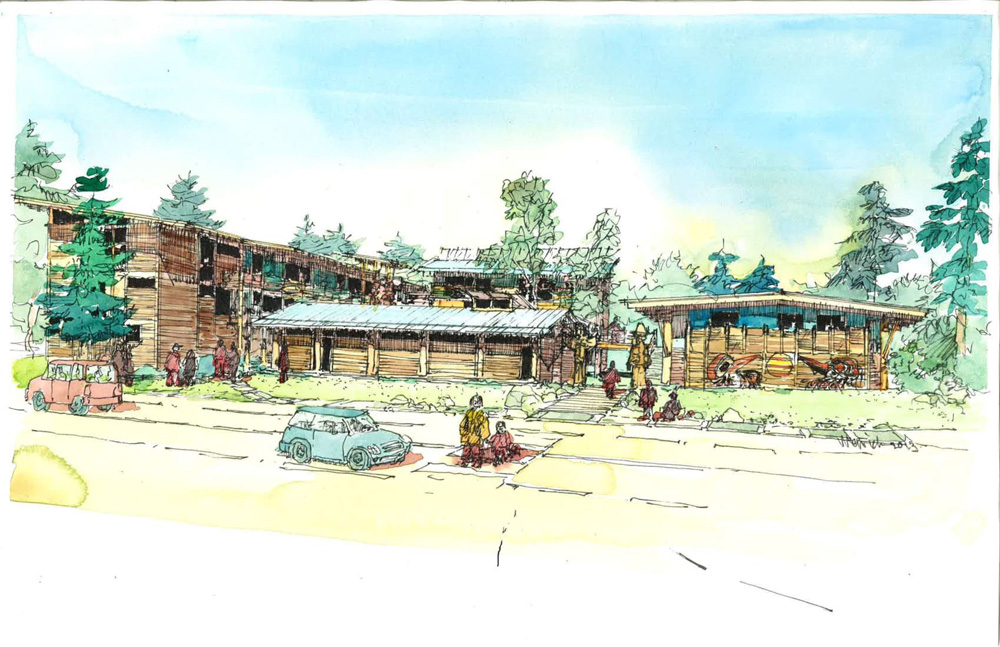 The third development featured in our Priority Housing Project List (PHPL) series is Siem Lelum Phase II.
Siem Lelum (a Victoria Native Friendship Centre development) is designed to create a safe, affordable, supported and holistic 'Urban Village' where life long skills and healthy lifestyle  will be modeled and the necessary resources provided to encourage healthy choices.
In addition to the 26 renovated units in phase one, the second phase will provide 15 new-built residential units for Aboriginal young families, single parents and grandparents raising grandchildren. Tenants will benefit from living in a supportive environment where they can learn parenting skills and other life skills necessary for self-sufficiency.
Project Details:
Seven 3 bedroom suites ($710/month)
Eight 2 bedroom suites ($620/month)
Phase II includes an onsite communal building with offices for Property Managers and Social Workers
The communal building will be the heart of the village. A meeting place for tenants and the surround community
A wide range of on and off site support services will be available, including Ready to Rent and access to the Victoria Native Friendship Centre's various activities
Update from the Developers:
The Victoria Native Friendship Centre is pleased to announce that it is beginning construction soon on phase 2 of  Siem Lelum.  There is still public consultation to go through regarding variances and the old motel still has to be demolished, but things are progressing nicely.  Funding for the 15  (2 and 3 bedroom) units is being provided by BC Housing.

The communal building is being built on the Interurban campus at Camosun College with material and labour provided by the Trades and Training Department, as well as the Royal Bank.  $5,000 has been donated towards the new playground from the Real Estate Council and further fundraising efforts will be underway soon.

The old motel still holds 69 units worth of furniture, linens etc.  which will be put up for sale soon.  The funds from this sale will also be applied to create the playground as well as the kitchen for the communal room, computers for the students and families and any other amenities we wish to  have on site to fulfill the four pillars that form the basis of our vision:

To celebrate the culture and traditions of the people of these territories
To be proactive environmentally with the creation of food gardens, bicycle racks, etc. and to build in a way that conserves our natural resources
To ensure that we keep costs as low as possible for our residents and to build and operate within our budgets
To encourage healthy social interaction within  the Village for the health and well being of our residents

 – Linda Ross (from Linda E Ross Property Management Inc – currently provide property management services to the site and will ultimately mentor and train property managers from the Aboriginal Community)
Why is affordable and supportive housing important? It's estimated the region needs at least 250 supportive housing units and 1,500 affordable/low-market units. For more information about the scope of the challenge: Housing & Homelessness in Greater Victoria
About the Priority Housing Project List
The Priority Housing Project List (PHPL) contains housing projects that act as priorities for the Greater Victoria Coalition to End Homelessness. As of August 2013, the PHPL contained approximately 326 supportive and 108 affordable housing units and 90 rental supplements.
Siem Lelum Phase II was admitted to the Coalition's PHPL in August 2013.
Also see our posts on other PHPL developments: