Reality: Homelessness not only affects those you see on the streets around the Downtown Core, but is present throughout the 13 municipalities, Salt Spring, and Southern Gulf Islands that make up the Capital Region District.
The issues that cause homelessness are also region wide. The most significant challenge facing the region is affordability.  Many people simply cannot afford housing.
Greater Victoria has the 5th worst vacancy rate in the country – at 1.5% down from 2.8%.
75% (9,985) of renter households earning less than $19,666 per year pay more than half of their before tax income on rent plus utilities. These renter households pay an average of $800 per month on rent plus utilities and would have to earn an additional $20,744 per year to make their rent affordable.[1]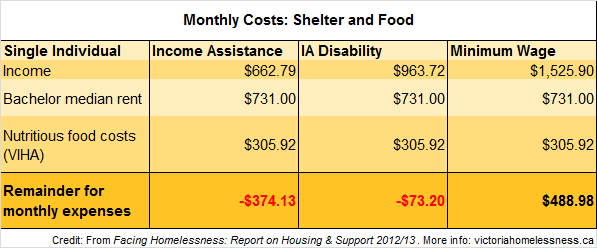 While we can see homelessness throughout downtown Victoria, we often don't see its effect on those living past the core. Homelessness touches the people living in their cars; people sleeping on friends' couches, in church basements, in welfare motels, and crowded buildings. Some people have full-time jobs. Some are seniors. Some are families. Homelessness isn't just a downtown issue. It's an "everywhere issue", and it can affect anyone.
[1] *Data from CMHC Housing Market Information Portal (https://www03.cmhc-schl.gc.ca/hmiportal/en/#Profile/1/1/Canada) , Updated October 2014 and from the BC Not For Profit Housing Association Rental Housing Index (http://bcnpha.ca/research/rental-housing-index/