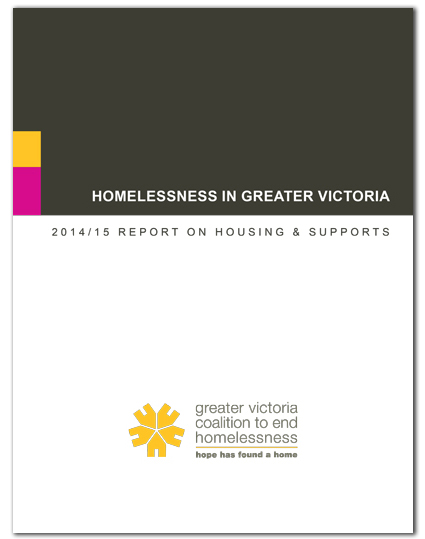 The Coalition's latest report, Homelessness in Greater Victoria: 2014/15 Report on Housing and Supports examines the key structural factors that significantly contribute to homelessness in Greater Victoria, including the growing disparity between income and housing costs.
Not only have vacancy rates decreased in most municipalities within the region but rental rates have also increased making it extremely difficult for low-income earners to secure stable and affordable housing. Both housing for single individuals and families are in decline leaving many at risk of housing instability and homelessness in the region. Resources available to those living on a low-income have showed a minimal increase. In 2015 the minimum wage increased to $10.45. Although this is a step in the right direction this amount falls significantly below the wage needed for low income families to have enough money to cover their costs of living. Comparatively, the living wage for families in the region increased to $20.05 in 2015. Although the challenge is similar for singles on social assistance or fixed incomes as income assistance rates have not increased since 2007.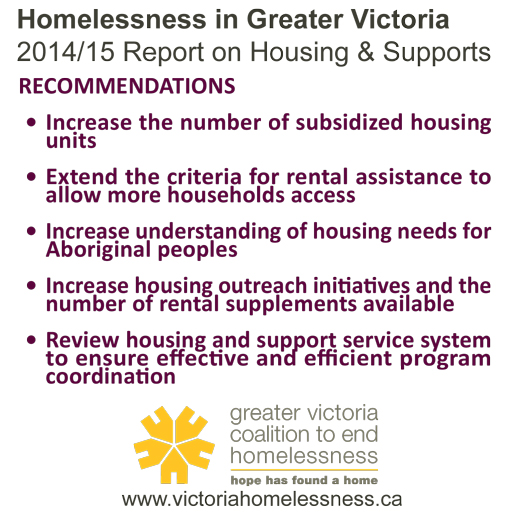 The report provides information on the risk of homelessness in the community. Individuals and families are in core housing need if they pay more than 30% of their income on housing putting them at risk of homelessness. The latest 2011 census data showed that 20,870 households were in core housing need and of these households 53% were single person households. Subsidized housing continues to have lengthy wait-lists, with 1,502 households on
the housing registry in 2015, which indicates an ongoing need for subsidized housing. There was a increase in the number of families and seniors listed on the housing registry. Food bank
usage is an indicator of food insecurity and those at risk of homelessness. Although food bank use is down slightly from 2013 there has been a substantial increase (33%) in the number of
children accessing food banks since 2012. Food bank use is still up when compared to 2008.
The extent of homelessness is measured by examining emergency shelter use over the past year. 1,725 unique individuals used an emergency bed in one of Greater Victoria's six emergency shelters at least once last year. The occupancy rate of emergency shelters increased from 93% in 2013/14 to 112% in 2014/15 due to increased emergency mat capacity.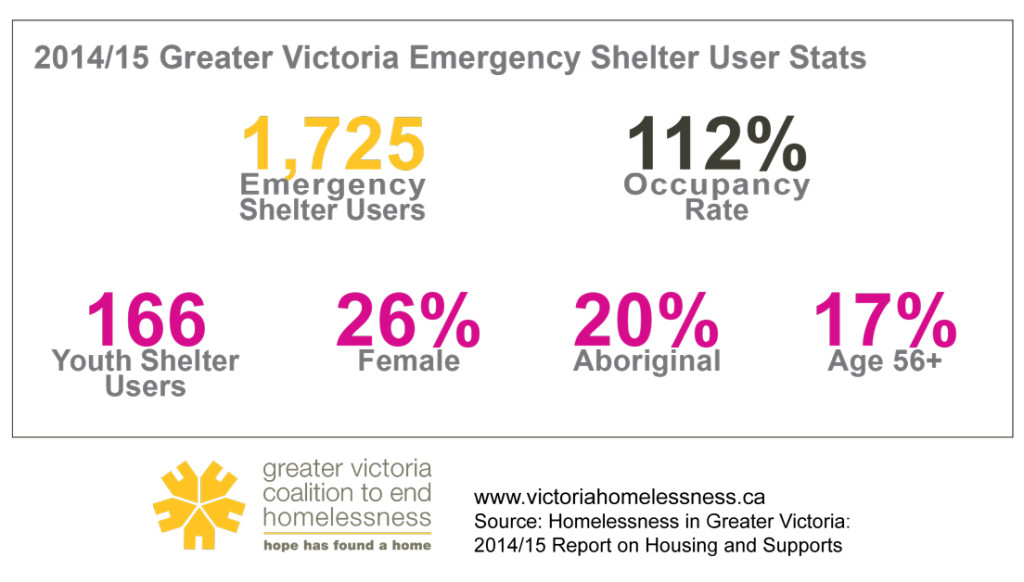 The community response to the challenge of homelessness and housing exclusion is an ongoing effort. Some progress has been made in the last year as there was an increase in the number of new affordable housing units that were added for people who are at risk of homelessness or formerly experienced homelessness. There have not been any new subsidized housing units for Aboriginal people added over the past year. There continues to be an under supply of affordable housing. Rental assistance rates for families and seniors have increased over the past year in an effort to address the rising rental rates. In general there has been an increase in the use of rental assistance programs by families and seniors. In 2014/15 the Homelessness Prevention Program was launched and included 117 additional rent supplements for unhoused individuals in the region. Rental supplements for individuals at-risk of homelessness or formerly homeless have more than doubled since 2012/13 in the region. The number of people who have been housed in the last year through HPP has decreased but for those that have been housed they remain successfully housed.
Read the report: Homelessness in Greater Victoria: 2014/15 Report on Housing and Supports