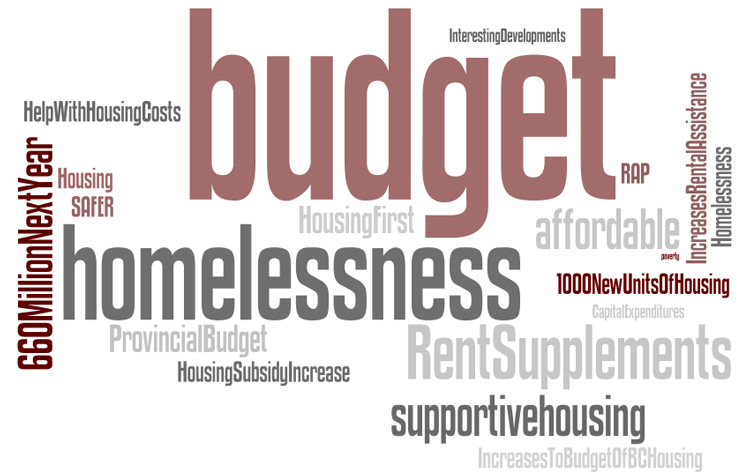 The Provincial budget was introduced on February 18 and it had some interesting developments with regards to housing and homelessness.
From the perspective of the Coalition the most exciting piece comes in the increases to the budget of BC Housing. Its total budget will increase from $613 million this year to $660 million next year. It is also interesting to note where that increase in expenditures will be felt. Housing subsidy expenditures for example will increase by close to $20 million.
The biggest increases in expenditures however come to rental assistance (nearly $26 million). The Coalition has been advocating for increases in this funding for a number of years now.  We expect that these will be reflected in an expansion of two different kinds of programming.  One will be rental assistance programs like RAP or SAFER. These are programs that seniors and families with lower incomes can apply for to get help with their housing costs.
The other type of rental assistance are rent supplements that are assigned to agencies so they can house individuals in the market sector and provide them with the supports needed to remain housed. These are critical to the implementation of Housing First programs. This type of programming has had demonstrable success in housing those experiencing homelessness.
In addition to these expenditures the budget of BC Housing will include about $40 million in capital expenditures, some $4.6 million of which is the federal contribution dedicated to specific crown assets. Overall, BC Housing expects to complete over 1,000 new units of housing over the coming year.
In summary, although measures to address some of the poverty issues that contribute to homelessness are not key components of this budget, measures on the housing side speak to an understanding of the need for more affordable and supportive housing.
 To learn more: BC Housing's service plan 
– Andrew Wynn-Williams, executive director of the Coalition